4Ever40 Sisterhood Association, Inc. is  a Florida based organization formed by empowered women    to promote  unity, friendship, and common goals.  We share interests, experiences, knowledge and skills through social events and networking systems.  Our purpose is to motivate, encourage and to provide leadership in children and women's education, advocacy and research.  Our main goals are: To provide scholarship to poor children in remote areas in the Philippines and to inspire women and girls everywhere to finish their education to become self-sufficient.
SISTERHOOD HOUSE is our haven for depressed women (widow or divorced) a place to    hang out with each other and with happily functioning women.  It's not just the food that we are sharing, but also conversation, memories prayer & laughter, Here we can have a feeling of happiness and belongingness being around our sisterhood.
To sustain the Sisterhood House, one dream is to put up a 4Ever40 Sisterhood Thrift Store of all women items such as bling-blings, clothes, novelties -  All in a fun and friendly environment where women can mingle, bond, and associate with one another.
Another is more substantive making projects.  This way we encourage other women to become empowered and share their ideas and experiences, and for a good cause.
Why 4Ever40?
Life begins at 40 has long been said… This is revolutionary outcome of our new era.   
40 is the start of  the new beginning.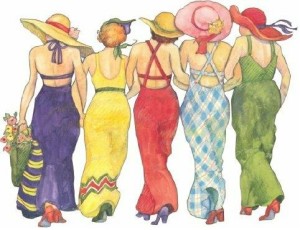 Growing old is a happier experience that many of us imagin
Happiness lengthens life – it strenghten us, our body, our
 mind, spirit and will.  Happiness protects us against falling ill.           
            As a result, HAPPY PEOPLE LIVE LONGER! 
   Welcome to 4Ever40 Sisterhood, Inc.